Bali Swing Ubud Price and Experience – English. Are you planning a trip to Bali and looking for a unique experience? Look no further than the Bali Swing Ubud! This attraction has become one of the most popular things to do in Bali, offering visitors the chance to soar high above the jungle, valley, rice terrace, and river while capturing amazing photos of a lifetime.
Bali Swing is a place where visitors can experience the thrill of swinging high above the trees and capture unique pictures with breathtaking views. In this article, we will discuss the Bali Swing Ubud price and experience, including its location, packages, and other important information.
What is Bali Swing Ubud?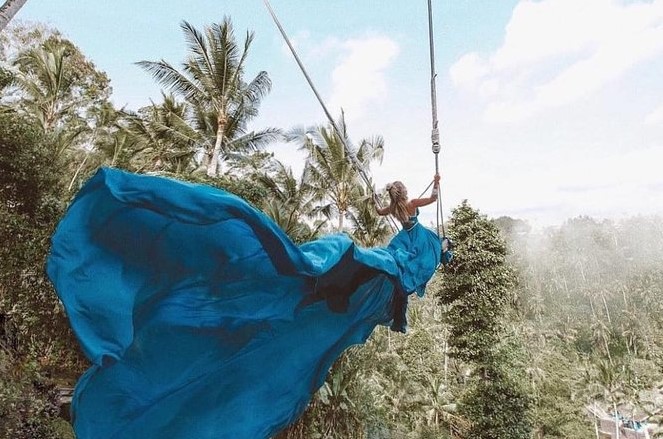 Bali Swing Ubud is an adventure park located in the heart of Bali, Indonesia. It offers visitors the opportunity to swing high above the picturesque rice fields and experience an adrenaline rush like no other. With various swing options and stunning views, Bali Swing Ubud is a must-visit destination for thrill-seekers and nature lovers alike. The duration of a swing experience at Bali Swing Ubud may vary depending on the swing option and the number of participants. On average, a swing experience can last between 5 to 10 minutes.
Where is The Bali Swing?
The Bali Swing is located at Jl. Dewi Saraswati, 80352 Bongkasa Pertiwi, Kapubaten Bandung, which is just a short 20-minute drive from Ubud city center and about an hour and a half from Kuta. However, there are also many other swings all over Bali that offer breathtaking views and unique experiences.
Bali Swing Ubud Price
The Bali Swing Ubud price is not the cheapest activity to do in Ubud, but it is worth the money. The Bali Swing Ubud price is $30 USD or 450,000 Indonesian Rupiah per person. The Bali Swing Ubud price includes unlimited time on the swings and nests, and you can enjoy the other different swings with a minimum booking of two persons. Dress rental is also available for an extra charge of IDR 250,000.
Swing Options and Experiences
At Bali Swing Ubud, you can choose from a range of swing options to suit your preferences and comfort level. Whether you're a beginner or an experienced adrenaline junkie, there's something for everyone. Some of the swing options include:
Single Swing: Experience the thrill of swinging solo as you soar through the air and take in the breathtaking views.
Tandem Swing: Share the excitement with a friend or loved one on a tandem swing, where you can swing together and create unforgettable memories.
Romantic Swing: For couples looking for a romantic experience, the romantic swing offers a cozy and intimate setting to enjoy the swing together.
Super Extreme Swing: If you're a true thrill-seeker, the super extreme swing will take your breath away as you swing at high speeds and experience an adrenaline rush like no other.
Safety Measures and Guidelines
At Bali Swing Ubud, safety is a top priority. The park follows strict safety measures to ensure the well-being of all visitors. Some of the safety guidelines include:
All visitors are required to wear safety harnesses and helmets while on the swings.
Trained staff members are present to assist and guide visitors throughout their swing experience.
Age and weight restrictions may apply for certain swing options to ensure the safety of participants.
Can you rent dresses for the Bali Swing?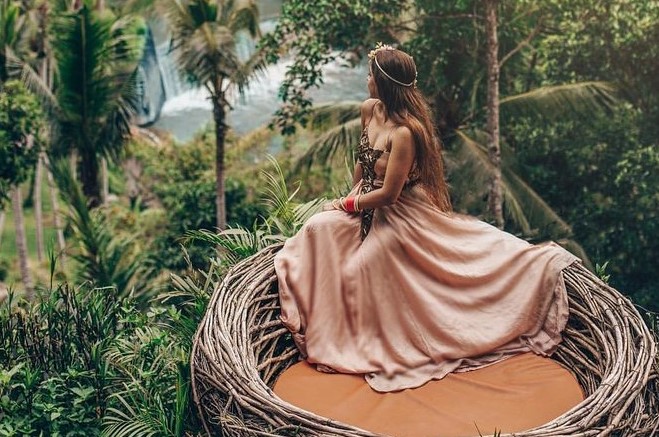 If you're planning to visit Bali Swing Ubud and want to take some amazing photos, you can rent a dress from the park. The Bali Swing Ubud price of dress rental depends on the type of dress you choose and ranges from 150,000 to 250,000 Indonesian Rupiah, which is around $10 to $15 USD.
The dress rental service is optional, and you can also bring your own outfit if you prefer. The park offers various swing packages that include different types of swings and activities, and the dress rental price is not included in the package price. If you're interested in renting a dress, it's recommended to book it in advance along with your swing package to ensure availability
As you embark on your Bali Swing Ubud adventure, remember that it's not just about the adrenaline-pumping swings or the captivating landscapes; it's about the journey of discovery and connection. From the moment you take your first swing to the awe-inspiring vistas that unfold before you, the Bali Swing Ubud is a testament to the wonders that await those who dare to explore.
To make the most of your Bali Swing experience and ensure convenient transportation to and from the attraction, look no further than Get&Ride Car Rental Bali. With our top-notch car rental services, you can seamlessly journey to the Bali Swing and create memories that will last a lifetime.
FAQ